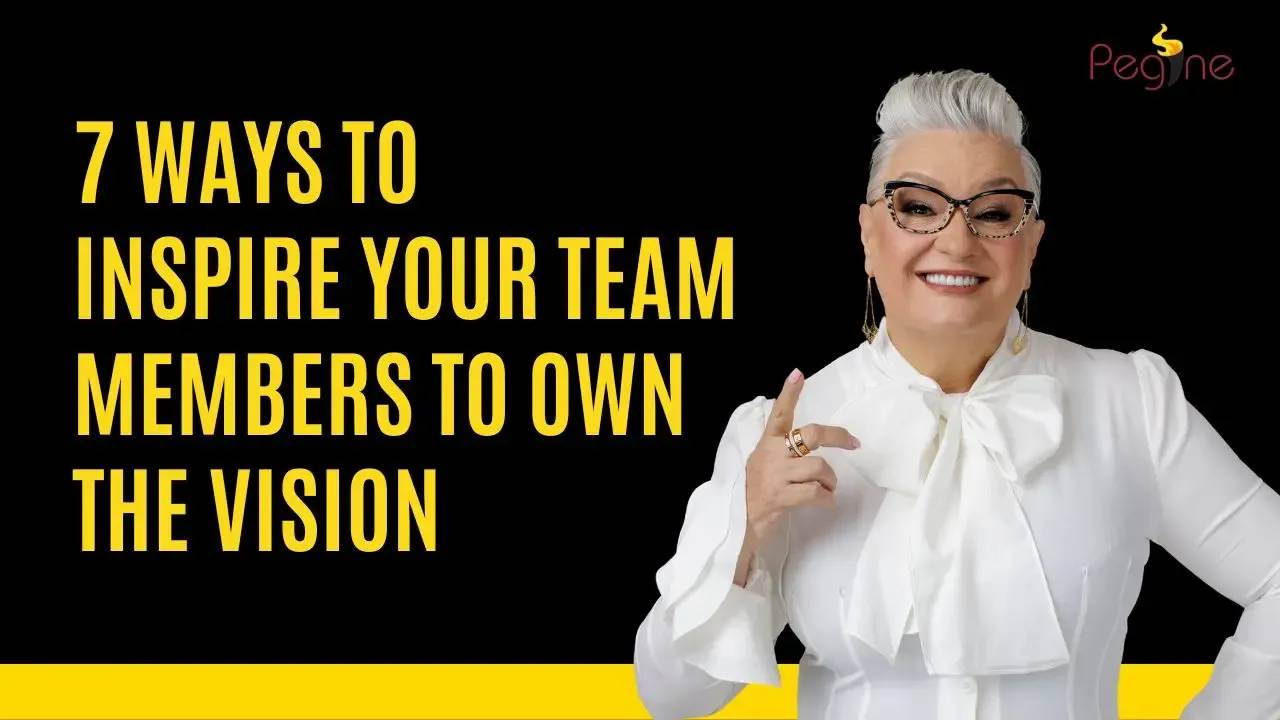 7 Ways To Inspire Your Team Members To Own The Vision
Do your team members OWN the vision you have for your team? Do they even know it?
As the leader of your team, whether you have one team member or thousands, it is your responsibility to communicate your vision on an ongoing bases through a variety of communication vehicles. You have the responsibility to inspire your team members
You may get tired speaking about it. They have to hear it from you over and over again. This is so important to the effectiveness of your team. It is what engages them.
It is your responsibility to communicate your vision on an ongoing bases using these 7 ways. There are two vehicles – verbal communication and written communication you can use to inspire your team members.
VERBAL COMMUNICATION
One on One
In your one on one meetings it is critical that you communicate your vision. It is easier to communicate your vision if it is a one liner that encompasses the vision of who you want the team to be. Have signs in your office or images that reflect your vision.
Everyone who meets you should be able to communicate your vision and mantra. In our Team Pegine Inc. office "We produce extraordinary experiences knowing that the impossible is possible for us."
Team members also have a mantra – "We steal people's limitations" and a fun image of being Pirates who steal limitations. We are Pirates and I am the captain. My job is to inspire our team members. Your job is to inspire your team members.
Small groups
It is really important to communicate in your small group meetings your vision and reaffirm it for the team. This is not only good for them, it is good for you too! In business we can get distracted by other calls to action, deadline and strategy that can move your team away from being cohesive, focused and committed to group effectiveness.
It is up to you to engage yourself and the team. You are all in it together. This is a never, ending mission and vision that you are responsible for sharing. Everyone in your downline and throughout your team of influencers, members and supporters can be responsible to inspire your team members. If they know what the vision is, and it is easy to repeat then all can be onboard.
Large Groups
In a larger forum, in front of all your team members and your leaders it is critical that you engage your team members from stage. Bring your vision, your mission chant and showcase their commitment to the organization and to your vision.
This is not the time to be shy, or hold back your energy and enthusiasm for your work, your team, you vision and commitment to the organization. This is your team to lead and inspire those listening. This is your time to inspire your team members.
Preparation is key, but, not in the way that you are imagining. Yes, you have to have the script, the PowerPoint (if needed), and you want to rehearse.
Video
Consider doing a video. It is easy with your webcam, your phone or calling your in house production team. Create a video communication your vision in a way that is easy to reach all. Consider doing a monthly video that your team and managers can share, discuss and then apply to their work. Your influence reaches many through video and is a great way to inspire your team members.
WRITTEN COMMUNICATION
Email
A powerful way to communicate your vision and your dreams for the organization is to add a line on the bottom of your signature. It is an effective way to also reinforce for yourself who you see your team being, doing and having because of the vision. Keep it simple and consistent and motivating. Remember you want to inspire your team members.
Newsletter
Take your video postings and create an article. Share with your community the message you want them to embrace. Your vision and influence has to be communicated over and over. If not, it is forgotten or is seen as just a one time event. Keep it going throughout the year. Stay focused and write about it, share it and of course live it.
Notecards & Post its
Want to really inspire your team members – then take a rare and powerful action. Write a handwritten note.
Writing a personal note card, acknowledging someone for a job well done, or 'living' the vision is a powerful and little used tool. To the person receiving it that written note is a treasure, a highly valuable and memorable piece of paper.
The same goes with Post It Notes. A quick note of acknowledgement is coveted. Sticking it on a someone's cubicle means something to them and others because you did a personal action. You walked over to them, you placed it on their cabinet or white board, you cared enough to take a personal action step. WOW!
INSPIRE YOUR TEAM MEMBERS
Be the inspiration by being responsible for your ability to inspire your team members to embrace and live the mission and vision. You can do this!
(C) 2023 Pegine Echevarria, MSW, CSP
Pegine Echevarria
You're gonna want to hear about Pegine - she's the leadership speaker and women's conference speaker that everyone is talking about! Her energy is electric and she knows how to get the audience pumped up with her perfect combo of content, charisma, comedy, chants, and connection-building.
Experience the Power of Dynamic Positive Leadership with Pegine - the High-Energy Keynote Speaker who Empowers Leaders Worldwide! She'll give you unforgettable lessons on leading, influencing, inspiring, and making an impact in a diverse world. And she's the perfect choice to open your conference and get everyone excited and energized.
Trust me, you won't want to miss out on having Pegine at your event. She's the real deal and she'll help your audience become the best leaders they can be.