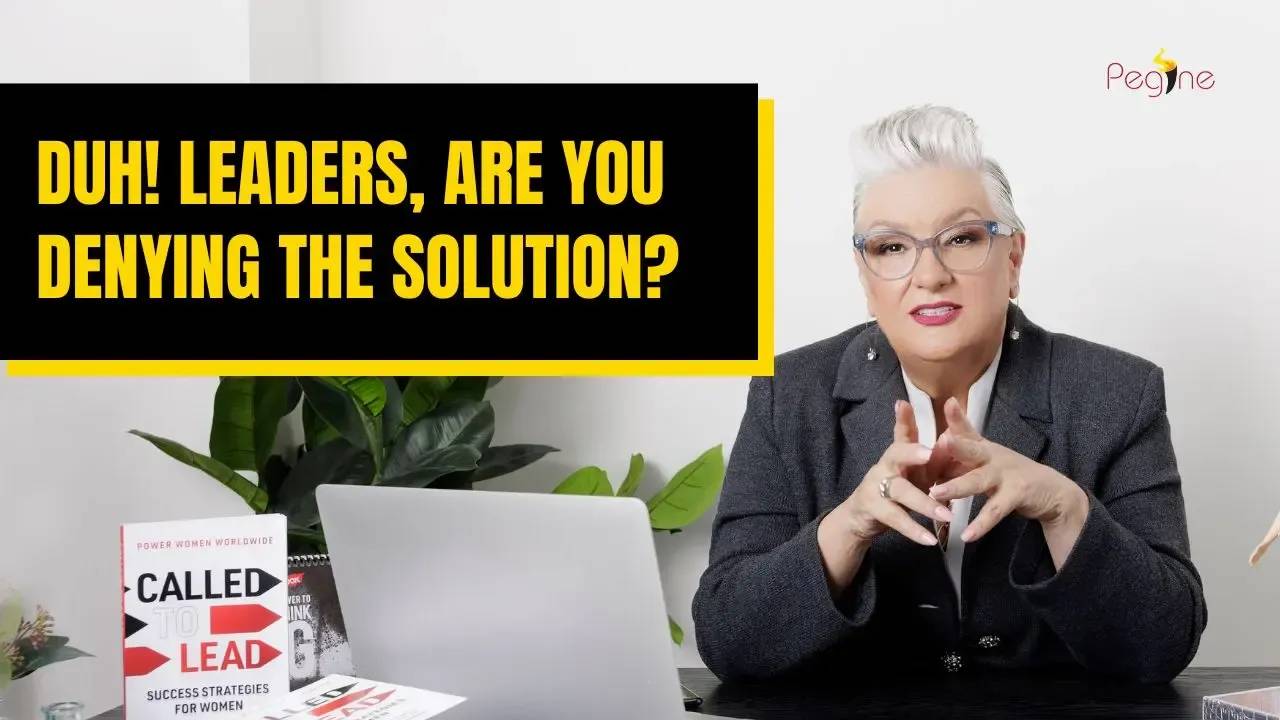 Duh! Leaders, Are You Denying The Solution?
Denial is a huge problem. Denying the solution is a bigger problem, because you just stay stuck with the problem. I am grateful I woke up. How many leaders are still sleeping?
I am humbly saying, Duh!! I didn't see the solution until today.
Have you ever read the parable about the man and the flood waters rising. He kept asking for help and the supreme sent people to help him. Still he kept asking for help, even though people came to help he said, "no, God will show me the way" and then finally he drowned. He asked the Lord "why you didn't save me" and God said "I sent help, I sent the neighbor, the boat, the National Guard and you kept saying no."
Well, I'm that gal.
Being in business it is normal to have 'challenges' and normal to find solutions for those "challenges". Leaders sometimes make it harder, because, often they deny the solutions that appear in front of their face. I know. I am a leader who has denied the solution.
I've been asking for a solution and waiting for a solution. I never realized, until today that (duh!) the answer has been shown to me a zillion times and I didn't see it as such, why?
This happens to leaders all the time. We have a problem, we keep asking for solutions. Often those solutions are right in front of us. We block, deny, defend, protect and mostly stay in the asking, instead of shifting our perspective to receiving.
Asking is one action step leaders take. Then leaders can get stuck. They get stuck asking over and over again and don't shift into receiving. That means listening, accepting information and being receptive to receiving the information and solutions. It is hard to listen to the quiet nagging inside that tells us what to do, to listen to the advice others share with us during meetings, through the books and blogs we read and the workshops we take. The solutions are there for us to receive.
I realize, now, that while the solutions appeared I didn't see them as they were.
Here are two reasons:

I wanted an easier way. I admit I didn't want to do the work. The solutions around me looked like work to me, and I didn't want to do it. It wasn't the kind of work that I enjoy doing. I could, should and would find an easier, faster and better way, right?
Have you done that? Have you resisted the answer so you can find the easier way?
Until today I didn't realize that, duh! This is the exact solution I have been asking for, talking about and looking for. It has been in front of me from the beginning. It is what it is and it does take work. Get over yourself, just do it. Take the time to see if you have been resisting a solution that keeps appearing.
I admit that I didn't want to do what I needed to do for me. Today I am looking at all the messages, notices and aha's that I have been receiving for a long, long time. I didn't see them as answers. I saw them as solutions for you, but not for me, duh!.
I didn't feel worthy, ready, prepared, knowledgeable, or good enough.
I admit that I didn't see what others saw in me and my work. I actually deflected, pushed aside and refused to see what they saw. I knew exactly what I wanted and in many ways, I didn't see at all that what I wanted was all here, right in front of me. I didn't recognize it. I was the one deflecting, not acknowledging, not owning the truth and not receiving. I am who I wanted to become, I'm already there.
Are we there yet?
Recognizing the truth, that you have the solution, is hard when you have been asking step by step walking the path of doing what you need to do to get where you want to be. It is hard to acknowledge that you are there. For so long leaders ask "are we there yet?" That habit of asking the question over and over blinds us to the truth. Yes, we are here. Know it, own it, and share it. What is really funny is that I teach this to my coaching clients. duh!
That habit of asking the same question over and over blinds us to the solution.
What am I talking about?

Know Your Problems
The specifics of my problems do not really matter. The point is leaders deal with problems and solutions. I know my problems and I've been asking for help. You know your problems.
For today I am no longer denying the solution. Today, I got it. I actually grabbed it. I grabbed the insight and I choose the solution.
Now it is your turn. What do you keep asking for?. Look at what keeps showing up in your life. The articles you read, the books you are attracted to and the words you are hearing. The solutions are right in front of your face. It is funny because what shows up is so subtle, so nuanced and yet so in your face. There are a Ying and Yang to life. You have to ask and you have to be in a state of mind to receive. Two different states of mind. Stop the asking and notice the solutions you are receiving.
You have to ask and then be in a state of mind to receive, 2 different states of mind. Read this #leadership blog
Denial is a huge problem. Denial of a solution is a bigger problem because you just stay stuck in the problem. Grateful I woke up.
About Pegine
Pegine is one of the 58 members of the Motivational Speakers Hall of Fame and one of only 8 women (the only Latina). Other members include Tony Robbins, Jack Canfield, Brian Tracy and Les Brown. Her books include "Sometimes You Need to Kick Your Own Butt "and "Bragging Rights Transform Your Team in 21 Days."
Pegine keynote speaks on leadership and business. She works with leaders to impact, influence and inspire others. Pegine goes by her first name, if it is good enough for Oprah, Shakira and Beyoncé it's good enough for her. Known as a tell it like it is, humorous, powerful, leadership speaker she has spoken to Generals, Admirals, CEO'S and leaders at all levels.
She is a member of the elite C-Suite Advisors, the most trusted network of advisors to the C-Suite, is an elite group of select thought leaders, coaches, trainers, authors, speakers and content creators who service C-Suite executives and enterprise businesses. C-Suite Network is the world's most trusted network of C-Suite leaders, with a focus on providing growth, development and networking opportunities for business executives with titles of vice president and above from companies with revenue of $5 million and above.
Bring Pegine to keynote at your next conference
Pegine is quoted in Forbes Magazine, Wall Street Journal and the New York Times on leadership, business, women in leadership and women in business.

Her company, Team Pegine was named the #3 of the 50 Fastest Growing Privately Owned Company in northeast Florida. Macy's and Minority Business Enterprise Magazine named her one of 3 women who rock in business in the US. Known for closing million dollar deals she gets the job done.Pegine is the founder of the "Global Executive Women's Leadership Experience". A leadership program utilizing professional role players to impact, influence and inspire others.
Pegine Echevarria
You're gonna want to hear about Pegine - she's the leadership speaker and women's conference speaker that everyone is talking about! Her energy is electric and she knows how to get the audience pumped up with her perfect combo of content, charisma, comedy, chants, and connection-building.
Experience the Power of Dynamic Positive Leadership with Pegine - the High-Energy Keynote Speaker who Empowers Leaders Worldwide! She'll give you unforgettable lessons on leading, influencing, inspiring, and making an impact in a diverse world. And she's the perfect choice to open your conference and get everyone excited and energized.
Trust me, you won't want to miss out on having Pegine at your event. She's the real deal and she'll help your audience become the best leaders they can be.